As businesses grow, leaders often focus on expanding their customer base, increasing revenue, adding new members to their teams, and so on. Whether or not back-end operations can actually keep up with the anticipated growth can sometimes be an after-thought. Manual processes can be "efficient enough" for businesses of a certain size, but can quickly become a major hurdle to operations if they are not scalable.
It is imperative for organizations anticipating growth to establish scalable internal processes to ensure they do not become an impediment to success. Introducing accounts payable automation is one way a company can ensure the back-end operations will be able to keep pace with a growing number of invoices.
What is accounts payable automation?
Octacom's accounts payable automation solution centralizes invoice receipt, automates data capture and validations, handles return to sender notifications for exceptions, and more: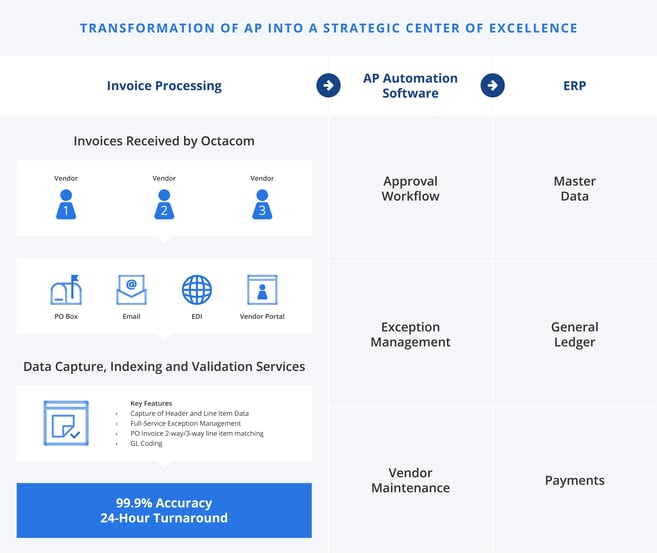 Introducing a full end-to-end accounts payable automation solution, will change the way the accounts payable team is spending their time:
Scanning and saving invoices received in a variety of formats is replaced with touchless invoice digitization and extraction.

Manual data entry is replaced with automated data capture with over 99.9% accuracy.

Chasing individuals to approve invoices is replaced with automated workflow escalation and email reminders.

Contacting suppliers to correct invoice errors is replaced with automated return to sender notifications identifying the issue with the original submission and providing instructions as to how to resubmit successfully.
By outsourcing and automating the handling of invoices, organizations can allow their accounts payable team to focus on strategic initiatives and avoid getting overrun with an ever-increasing number of invoices, suppliers, questions and issues!
When is the right time to introduce AP automation?
A few questions to consider whether it might be time to introduce an accounts payable automation solution:
Is your accounts payable team spending the majority of their time on low-value-add tasks such as manual data entry?

Are you missing supplier discounts or paying invoices late due to the overwhelming volume of invoices or data entry errors?

Does your accounts payable team feel as though they are constantly under staffed?

Will your manual accounts payable processes be unable to keep pace with anticipated growth over the next 12 – 24 months?
If the answer to any of the above questions is "Yes", it is likely time to start considering introducing a scalable accounts payable automation solution in order to ensure your operations are set up to successfully support the future growth of the organization and maintain positive relationships / payment terms with your suppliers.
---
Octacom is a SOC 2, Type II Audited enterprise software and services company focused on document and data automation solutions, including automated data capture. Founded in 1976, Octacom specializes in accounts payable automation and automated invoice processing, among other digital / automated business process outsourcing services.

If your organization is looking to learn more about our solutions and services, please contact us and we would be glad to help.