Some companies offer early payment discounts to encourage customers to pay their invoices on time. One common early payment vendor discount is the "2/10 net 30," which means a payment due in 30 days can be reduced by 2% if paid within ten days. Usually, it makes sense to take advantage of these discounts depending on company policies and cost of capital.
Paying invoices early reduces the amount owed and makes it easier to reconcile accounts. Additionally, it will also strengthen your relationships with your current vendors. These are some of the reasons why your company wouldn't be taking advantage of early payment discounts:
The invoice manual processes are slow and prone to errors
Invoices are being received in decentralized fashion limiting AP visibility until it is too late
Invoice approvals and payments take too long
The AP department doesn't have full visibility into their payment schedule because it isn't automated
If your AP department spends too much time tracking down invoices around the office or manually entering data into spreadsheets, making payments before invoices are due can even be difficult. This is why you should consider an accounts payable automation and outsourcing solution.
Octacom's Accounts Payable Automation solution significantly decreases processing times. All data capture and validation is provided as part of a daily processing service. You receive complete and correct invoice data necessary to capture early payment discounts and eliminate late payment fees.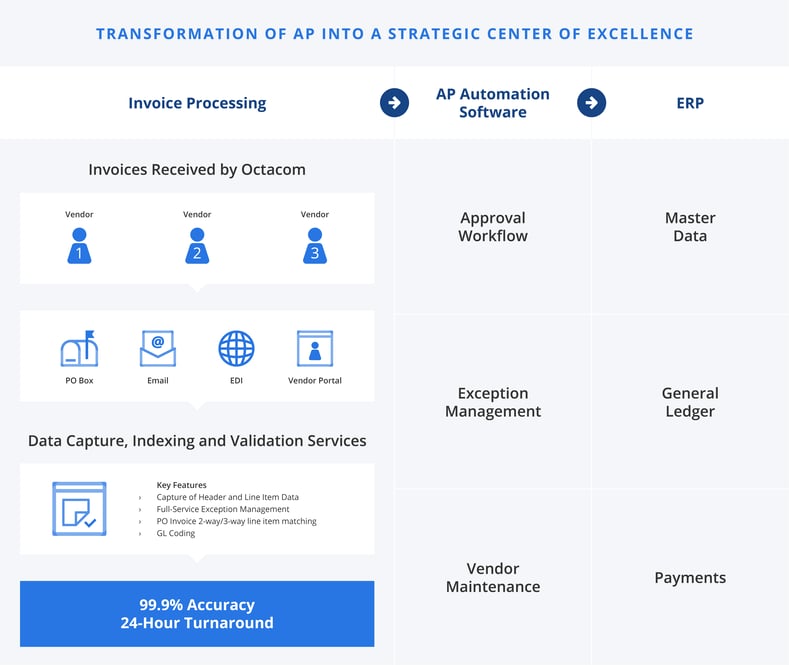 Plus, our Odiss™ Document Management Software continuously monitors all user and workflow activity with a complete audit trail of all actions taken that allows you to anticipate any issues that put early payment discounts at risk.
---
Octacom is a SOC 2, Type II Audited enterprise software and services company focused on document and data automation solutions, including automated data capture. Founded in 1976, Octacom specializes in accounts payable automation and automated invoice processing, among other digital / automated business process outsourcing services.

If your organization is looking to learn more about our solutions and services, please contact us and we would be glad to help.