The Benefits of Document Scanning and Document Management for Auto Dealerships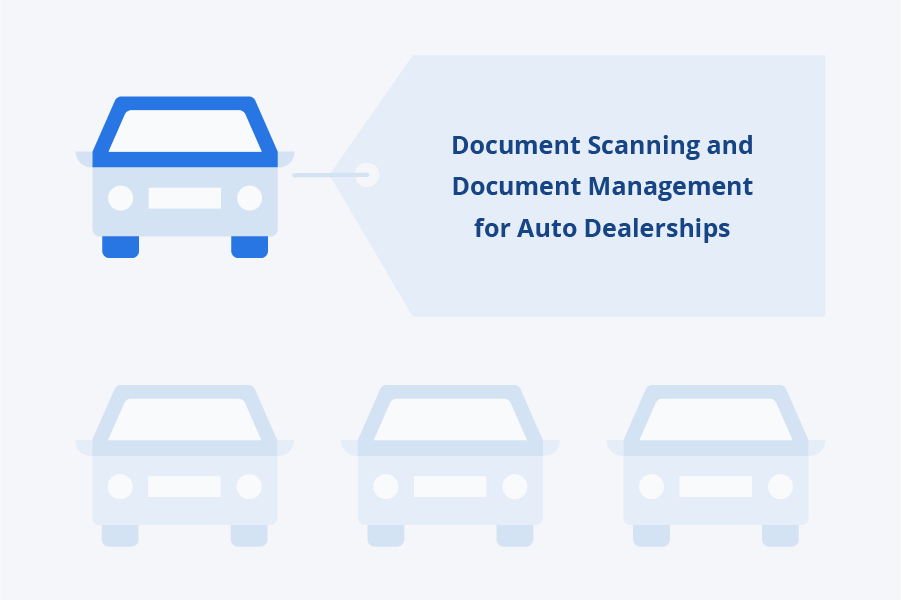 Auto dealerships generate hundreds of paper documents every day including but not limited to loan forms, leasing agreements and sales contracts.
They also have to maintain for a period of 6 years the records of each sale, lease, consignment contract, Vehicle Identification Number (VIN) and copies of Safety Standards Certificates. Keeping these documents in the office requires a lot of real estates.
The customer experience needs to always be top of mind at dealerships. Positive initial purchase experience is vital for car dealerships; most customers are local and are often come back for their next purchase. Customers generally assume the dealership already know their vehicle history and expect the information to be readily available.
Having any information necessary at the touch of a button can make a lasting first impression and show customers your dealership is committed to top-tier customer service. It also facilitates the sales process and leads to less time for the customer to become frustrated by wait times.
Document scanning, provided it is coupled with cloud-based or shared drive access, allows you to manage your repair orders, deal jackets, warranty acceptance, inspections and estimates, insurance, finance and accounts payable documents from your computer, iPad, iPhone or Android, so your staff have instant access to the files they need from any location.
Many auto manufacturers and auto dealerships also leverage Octacom's OdissTM Document Management Software, providing staff with logins to access documents with ease, and from anywhere.
Octacom's Document Management Solutions for Auto Dealerships reduces the costs and the amount of paper your dealership consumes and the number of file cabinets in your location, giving you quick and easy access to your documents.
Our Document Management Solutions for Auto Dealerships will:
Save you time and space
Improve customer experience
Eliminate paper copies of documents
Protect your customers' personal identification information
Octacom's Document Management Solutions for Auto Dealerships digitize, index and import your paper and digital documents into OdissTM or your preferred Document Management Software, guaranteeing an easy transition to digital document management.
Octacom's Document Management Solutions for Auto Dealerships streamline the selling and financing process, improving productivity, customer experience and your brand.
Going paperless does not have to be a paper struggle, we can help!
---
Octacom is a SOC 2, Type II Audited enterprise software and services company focused on document and data automation solutions, including automated data capture. Founded in 1976, Octacom specializes in accounts payable automation and automated invoice processing, among other digital / automated business process outsourcing services.

If your organization is looking to learn more about our solutions and services, please contact us and we would be glad to help.