Many companies are very familiar with manual accounts payable processing:
It begins when an invoice is received by the AP department. The invoices can arrive by email, mail or maybe someone dropping a paper invoice on your desk.

Once the documents are received, they are handed to an AP team member and the invoices are manually typed into an accounting system and may be scanned as well to create a digital file.

Each invoice is validated and approved by someone with the right authorization level before it is paid. This means lots of emails asking for approval, getting approval and then forwarding to the next person.
When AP processes are not centralized, handling each new invoice can be confusing for everyone involved. Also, manual processes have great tendencies for mistakes and failures (one of the primary problems associated with AP teams) affecting the workflow, time and cost.
Automated Accounts Payable workflows make the process easier, accurate and efficient. Through a combination of shorter payment cycles and improved processes, automated accounts payable provides solutions that can help cut clutter and paper.

With automated invoice processing, the accounts payable staff can get more done in less time.
Many AP automation outsourcing and software solutions come with optical character recognition (OCR) capabilities that eliminate the need for manual keying the invoices, allowing you to maintain a more efficient workforce so your business can achieve major cost savings as fewer staff members are required for the AP department.
This means your AP team can focus on more important tasks such as general accounting, process improvement and handling exceptions rather than spending time processing every document manually.
*Research from PayStream shows that companies that adopted automated invoice processing and workflow automation in AP achieve improvements in approval times, employee productivity and reduced processing costs: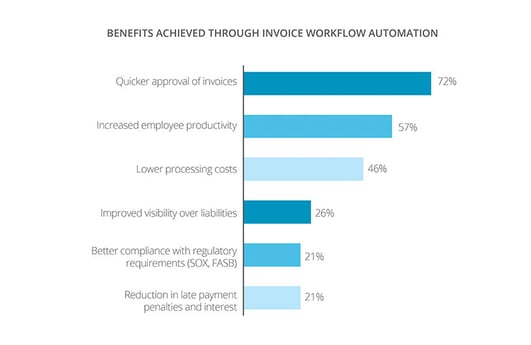 ---
Octacom is a SOC 2, Type II Audited enterprise software and services company focused on document and data automation solutions, including automated data capture. Founded in 1976, Octacom specializes in accounts payable automation and automated invoice processing, among other digital / automated business process outsourcing services.

If your organization is looking to learn more about our solutions and services, please contact us and we would be glad to help.