Customized Document and Data Management Portal: What Odiss Can Do For Your Organization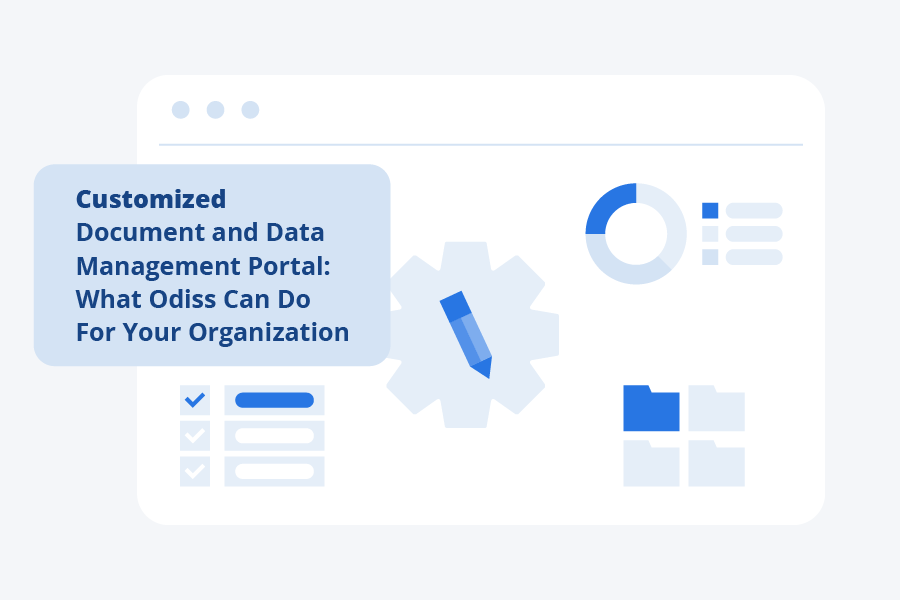 Undertaking digital transformation within an organization does not just entail scanning paper records or implementing a new digital file creation process. These are great first steps to move away from manual paper processes, however they are just the beginning. The next question becomes how to manage the newly digitized records.
Octacom offers its clients OdissTM: a cloud-based document management software that provides a safe and secure data archive, with advanced workflow functionality. Industries that have benefited from OdissTM include health care, manufacturing, construction, cannabis, dental service organizations, law firms, transportation, sweepstakes and more.
Key Features of OdissTM
1. Secure Cloud Archive: at its most basic, OdissTM can offer organizations a method to safely store digital files in an easy-to-use searchable archive with regular backups and replication. OdissTM supports single sign on improving accessibility within your organization. As OdissTM is cloud-based, it is available on any device with access to the internet ensuring accessibility to critical information throughout your company.
2. Audit Trail and User Management: OdissTM administrators within your organization will have access to a full audit trail of all actions that users have taken within the software to ensure sensitive information is never at risk. As well, granular user permissions can be managed internally, without having to contact Octacom support.
3. Workflow Automation: OdissTM can be leveraged to create customized automated workflows to move records throughout your organization based on triggers such as assigned department, date of sale or total invoice amount, for example. This helps to ensure processes are streamlined and accountability within the workflow is maintained. Configurations are available to ensure the workflows created and actions available to users align with internal processes.
4. Integration with Existing Software: Octacom leverages APIs, EDI and SFTP solutions to integrate OdissTM with client and partner ERPs, management systems, financial institutions, courier companies, and more. Clients can automate inbound and outbound data and workflows to improve internal and external communication easing use and enhancing functionality across all digital systems.
5. Direct Upload and Data Management: OdissTM users can upload documents directly into the archive portal either as standalone records or as supporting documents to existing digital files. Different "tabs" with OdissTM can be leveraged for document types allowing for unique data fields within each tab. Data can be loaded to OdissTM via bulk upload and managed within the portal allowing for quick and easy assignment of data to individual digital records.
Ensuring an easy-to-use system is in place to house digital records in a secure location that will improve efficiencies and streamline processes is critical to the success of a digital transformation project. Contact Octacom to learn more about OdissTM and how its configurable design can be the right solution for your organization's digital transformation needs.
---
Octacom is a SOC 2, Type II Audited enterprise software and services company focused on document and data automation solutions, including automated data capture. Founded in 1976, Octacom specializes in accounts payable automation and automated invoice processing, among other digital / automated business process outsourcing services.

If your organization is looking to learn more about our solutions and services, please contact us and we would be glad to help.