One of the key goals that large enterprises are typically seeking to accomplish by implementing accounts payable automation includes the elimination of inefficient and error-prone manual data entry. This low value-add task can be incredibly expensive to organizations given its time-intensive nature and the missed payments / discounts that can arise from errors.
By leveraging a solution for AP Automation, companies can remove the manual data entry requirement entirely from their invoice processing environment. The question then arises, how do outsource providers collect the necessary data required for audit, reporting, tracking and payment purposes?
In Octacom's processing environment, invoices travel through a multi-stage approach including both automated data capture as well as a human-in-the-loop QA step. This intelligent data capture service results in 99.99% data accuracy.

Automated Data Capture
Octacom leverages the latest Optical Character Recognition (OCR) tools combined with AI and Machine Learning technologies to obtain as much accuracy as possible from the automated data capture. This best-in-class layered solution pick-ups characters from the invoice images and provides meaning to the extracted information to identify the data collected as "vendor", "invoice date", and any other configurable data fields as may be applicable. While there are many OCR tools available off the shelf, Octacom's solution does not rely on the use of templates and key words, allowing for greater accuracy across a wide array of invoice formats and levels of quality.

Human-in-the-loop QA
Once the invoices have run through Octacom's automated data capture engine, the images and data are loaded into a system that attributes a level of confidence to each data field. The indexing team reviews each invoice, validating or correcting any low-confidence data points. This quality assurance step is critical in ensuring the data provided to clients is essentially 100% accurate, allowing accounts payable team members to focus on resolving data exceptions, analyzing trends, communicating with vendors, and other value-add tasks.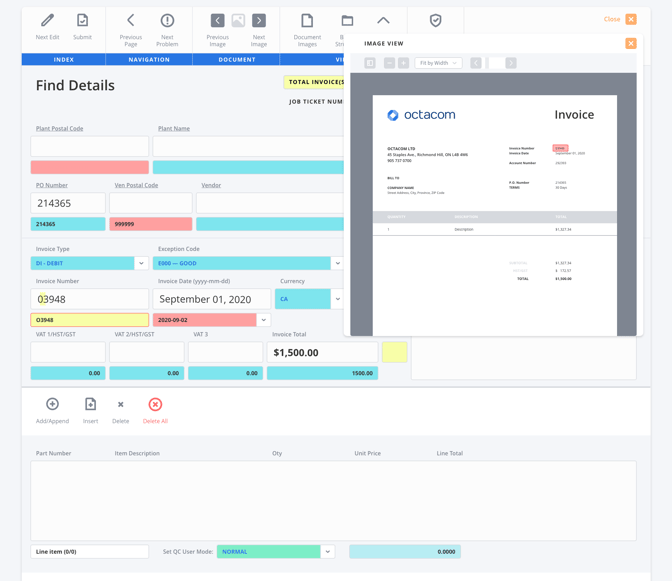 The data capture stage is absolutely critical to an effective accounts payable automation solution and Octacom's robust process incorporating both the latest technologies along with an effective and efficient indexing team provides clients with accurate data that they can rely on. To learn more, contact Octacom today!
---
Octacom is a SOC 2, Type II Audited enterprise software and services company focused on document and data automation solutions, including automated data capture. Founded in 1976, Octacom specializes in accounts payable automation and automated invoice processing, among other digital / automated business process outsourcing services.

If your organization is looking to learn more about our solutions and services, please contact us and we would be glad to help.